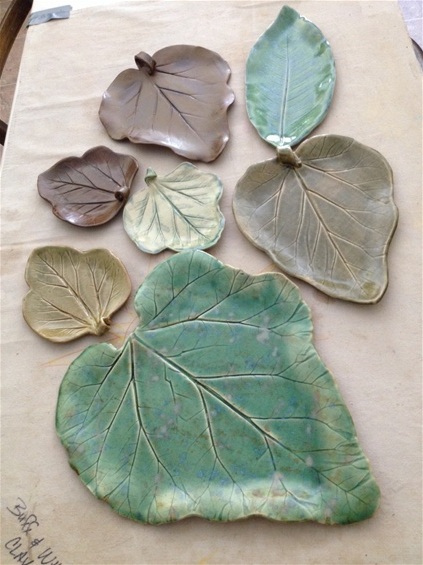 Well known for her leaf pressed platters, Debbie is one of our original potters. Using leaves from all over the state, she truly captures the true essence of plants in her botanical imprints. Each leaf is an original that varies in size and color. Prior to Nutmeg Potters, Debbie sprayed and hand painted intricate designs on wooden chairs at Hitchcock. This experience has transferred to her work in pottery and is displayed in some of her leaves and the images she hand paints onto platters. Debbie's patience and care shows in each piece she creates.
Kathy understood early on she didn't like to make handles for mugs, but then she discovered yunomis, an Asian tea bowl, and has been making them ever since. Textured and faceted, each one is unique and comforting to hold. As a gardener, Kathy enjoys varying the shape of vases to enhance floral displays and as a potter, she loves to explore the possibilities textures can offer. Each piece she creates is different than the last. Kathy, who is one of our original members, has taken workshops with many different potters including Alison Palmer, Stephen Foster, Nick Joerling, Randy Johnson, Jan McKeachie, Hayne Bayless, Mary Barringer, Paula Shalan, Ellen Grenadier, and Phil Rogers.
Joining us in 2015, Sarah has brought with her the knowledge she gained as a student and teacher at Canton Clay Works. Well educated in various aspects of firing and throwing, Sarah has taken many classes and workshops over the years with several potters: Tim Scull, Sara Gross, Dave Keller, and Jim Gorman. It was at Canton Clay Works where Sarah was finally able to learn about this craft that intrigued her and allowed her to feel connected to the Earth. During her 15 years at Canton, not only did she learn how to throw and the basics of ceramics, but she also learned how to build a gas kiln and to fire in various ways including raku, saggar, sawdust, pit, wood, and salt. While at Canton Clay Works, she took several crystalline glazing workshops and a workshop with Vermont potter Bob Crystal on how to throw large forms. In 2005, she began to teach at the same place that allowed her passion to thrive.

Matt has always had a love of all things ceramic and began throwing pots of his own in 2004 with another potter in Pawling, NY. His life then took him south, where he expanded his knowledge of working with clay at the Maryland Hall for the Creative Arts in Annapolis, MD, and the Chesapeake Arts Center in the Baltimore, MD, area. Matt moved back to the northeast to be closer to family,and found his way to us in late 2018.
Joining us in 2015, Susan enjoys taking workshops all over the country and is eager to share her knowledge with us upon her return. Always trying new materials and techniques, Susan's work is constantly changing and flowing with her adventurous spirit.
One of our original potters, Melinda enjoys challenging herself to create new pieces for her friends and family.
For as long as she can remember, Pam has been intrigued by the process of using a pottery wheel to create functional vessels. In fact, as a child she tried, rather unsuccessfully, to use a record player and mud to throw pots. Pam has taken ceramic classes with various instructors and facilitated a clay group at an elementary school. While Pam enjoys creating yarn bowls, textured hand-built mugs, and berry bowls, she is known primarily for her beautifully hand-painted animal mugs. In fact, she enjoys painting with underglazes so much that she creates plates, mugs, cups, and toddler sets for family and friends with unique and intricate designs. One of our original potters, her creative spirit shows through everything she creates.
Amy fell in love with ceramics during her studies at Southern Connecticut State University in New Haven. During her time there, Amy created functional and sculptural ceramic pieces where she pushed the physical boundaries of the medium. Now, she has turned her focus on creating pieces that are both functional and aesthetically pleasing. As one of our original potters, she states that she enjoys creating these functional pieces because of the unspoken beauty and connection that occurs between the piece and the person who holds it.
Honorable Mention:
Jack Donohue
Jack was a gardener long before he was a potter and this is reflected in his varied flower pots and planters such as wheel thrown flower pots, pinch pot planters, and slab built structures. He also had a deep appreciation in Art Deco pottery and this is displayed in the multiple vases he made. Always playing around with texture and different techniques that he learned about while taking ceramics classes with his wife, Kathy, he would enthusiastically share his new knowledge with the other members of the studio. One of our true original members, Jack enjoyed the challenge of creating large pieces whether it was a large wheel thrown bowl or a multi-tiered planter. However, one thing he discovered he truly enjoyed was a deep brown, iron rich clay with a contrasting light speckled blue glaze which became his signature style.